Raphtalia begins a new chapter alongside Naofumi after a tear-jerking conclusion capped off a fantastic episode 10 for The Rising of the Shield Hero Season 2. While it's uplifting to see Naofumi, Raphtalia, and Filo back together again, episode 10 had much more meaning than just another reunion.
Raphtalia – The Katana Hero
On the surface, Raphtalia becoming the Katana Hero seems like a spur-of-the-moment occurrence rather than a well-thought-out part of the story for her character development's sake. But when you start to break down who Raphtalia is and everything she has endured up until this point, her becoming the Katana Hero, no matter how it happened, could be considered a long time coming.
While the execution in the episode was relatively quick, it was still well done. The katana vassal weapon was presented in a smooth manner, similar to the story of Excalibur, and the viewers know exactly what they are witnessing. The pacing was relatively solid and the big moments felt like big moments, unlike earlier in the season when they felt rather anti-climatic. But it's Raphtalia becoming the Katana Hero itself is what is most significant.
After holding to the motto of "being Naofumi's sword" close to her heart from the very beginning, it's only fitting that she became the Katana Hero⁠—freeing her from her slave crest and leaving her with the decision to choose any path she may wish. With Naofumi realizing this and holding back tears, it left viewers with a mix of whether he felt relieved, scared that she might actually leave for good of her own free will, or perhaps both. However, as expected, Raphtalia chose to remain where her heart felt the warmest⁠—by Naofumi's side, leaving viewers with arguably the best moment of the season so far.
Her New Life Begins
Episode 10 was more than Raphtalia simply becoming the Katana Hero and breaking the slave crest. It painted Raphtalia in a bright light that so many have been waiting for. Rather than just being the main female lead character who can fight, this episode did a wonderful job of showcasing Raphtalia actually being a main character and why she deserved an episode like this in the first place. Up until now, Raphtalia sometimes felt like nothing more than a necessary character to keep Naofumi afloat and use him as motivation to tap into her own strength.
But there was never a detailed, drawn-out episode that solely focused on Raphtalia up until this point. She's had her moments in battle and cute moments when she's younger, but Raphtalia never received a full episode's worth of development that showed us who she truly is now, where she wants to be, and who she wants to become later on. Thankfully, that is now finally here with episode 10, for which Director Hirata Takahiro deserves much praise.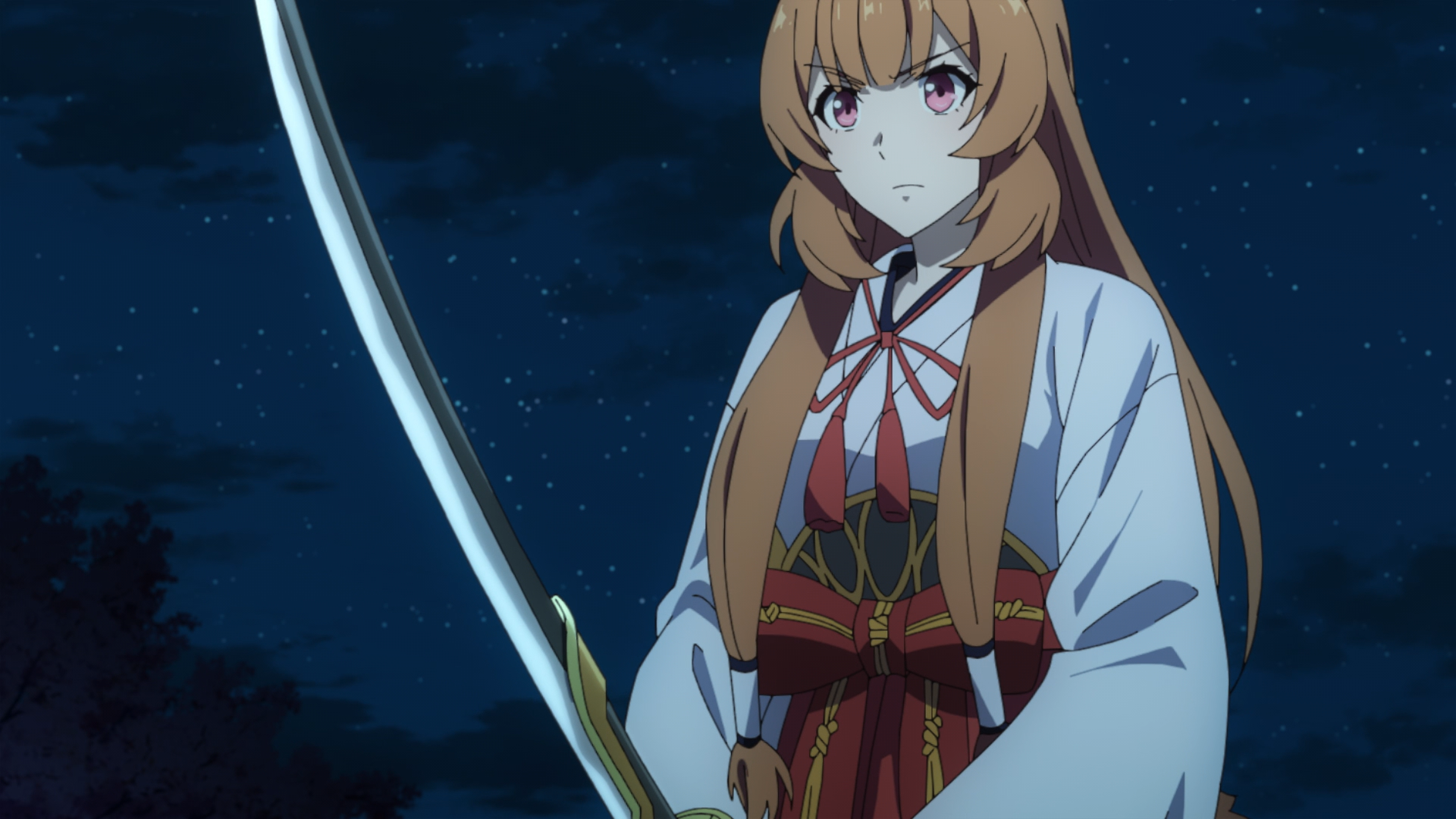 Also Read:
Shield Hero Season 2 Episode 9 – Filo Is Finally Back
Shield Hero Season 2 Episode 8 – Raphtalia's Emotional Goodbye
Raphtalia is now a hero who will walk by Naofumi's side through the worst hardships on equal ground in both friendship and strength. Not only will the other characters around her view her as someone more respectable and fierce but so will the viewers. The perfect complement to a strong shield is a piercing blade—that's what makes Raphtalia a loveable main character.
Raphtalia doesn't receive much talk among the anime community as a genuinely fantastic lead female main character. While Naofumi is rightfully the spark of conversation when discussing Shield Hero, episodes like this week show why Raphtalia deserves to be right next to him in any conversation at all times. It's utterly impossible to talk about one without the other. Above all else, episode 10 showed us how important Raphtalia is on all fronts—to the story, other characters, and the viewers as well.
It's also worth mentioning we were given some incredibly bad-ass moments in episode 10 giving us a glimpse of Raphtalia's new power. Sprinkle on top of the always phenomenal soundtrack and it shows us just how hype Shield Hero can actually be.
The Rising of the Shield Hero Season 2 Episode 10 placed at #10 in this week's poll. The series has now held a spot in our top-10 weekly polls for the past five weeks and an overall eight times in 10 weeks so far of the Spring 2022 season. After a wonderful, make sure to vote for the series to keep The Rising of the Shield Hero Season 2 in the top-10!
Episode 11 of The Rising of the Shield Hero Season 2 will air on Wednesday, June 15, on Crunchyroll.
Screenshots: Crunchyroll
©2021 Aneko Yusagi / KADOKAWA / Shield Hero S2 Production Committee