Square Enix took to the stage at Anime Expo 2023 to announce new manga licenses for English, including the manga adaptation of the popular anime and light novel, The Angel Next Door Spoils Me Rotten, which was voted the Best Anime of Winter 2023 on Anime Corner.
The Angel Next Door Spoils Me Rotten (Manga) by Wan Shibata (Art), Suzu Yuki (Adaption), SAEKISAN (Story), Hanekoto (Character Designs)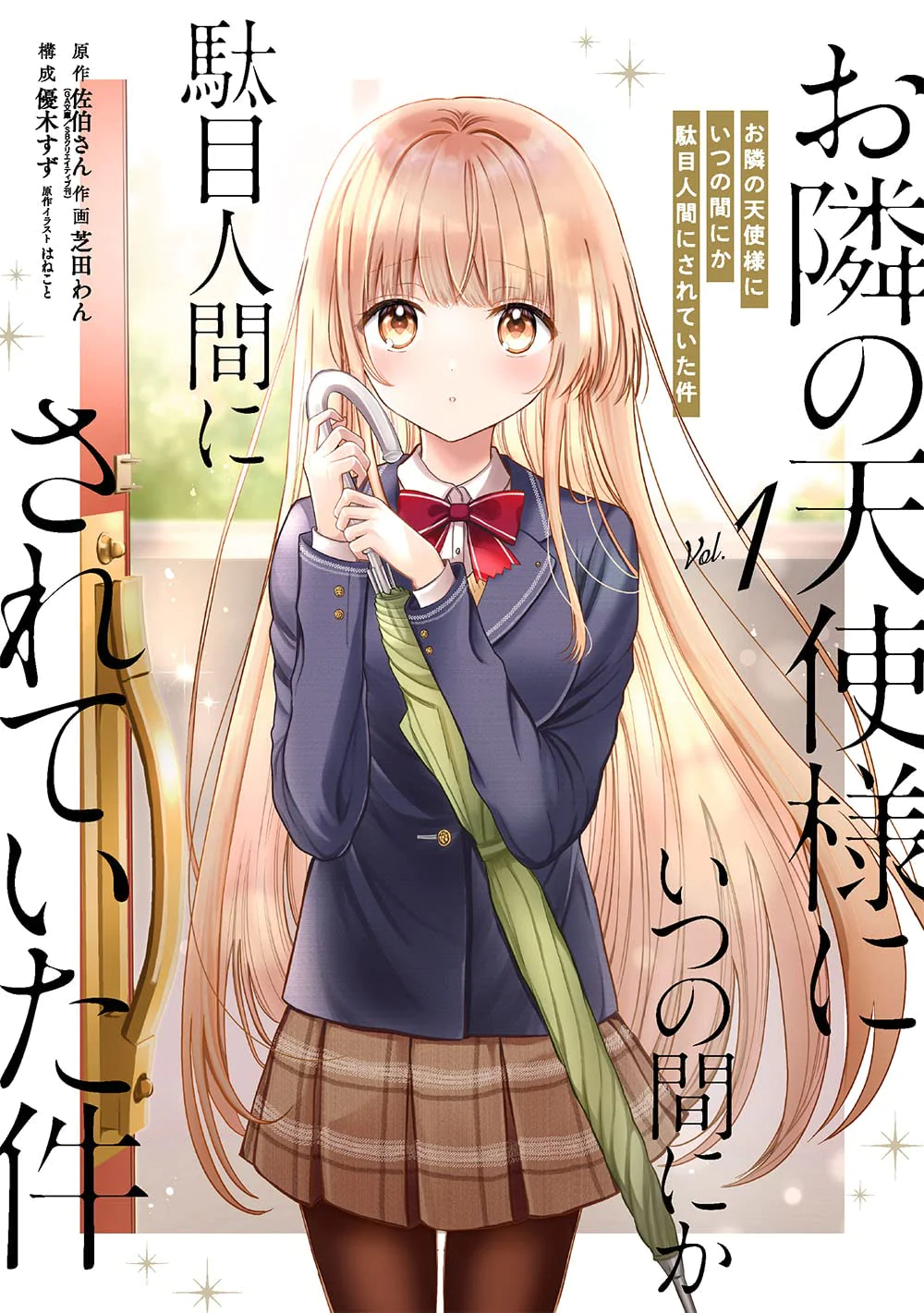 Amane Fujimiya lives alone in a messy apartment-right next door to Mahiru Shiina, a veritable "angel" who's the smartest, prettiest girl at school. When a chance encounter on a rainy day draws them together, Mahiru finds herself spending more and more time helping Amane get his life in order.  And though they both insist they have no intention of dating the other, slowly but surely, something more than friendship begins to blossom. (Square
Smoking Behind the Supermarket With You by Jinushi
At age forty-five, office worker Sasaki has had enough of the corporate grind. His only solace is smoking-and the friendly smile of supermarket cashier Yamada. When Sasaki can't find Yamada after a particularly trying day, a striking woman invites him to smoke with her. The despondent man thinks he's made a new smoking buddy in the cool, teasing Tayama, but Sasaki doesn't realize he already knows her! (Square Enix)
The Villainess's Guide to (Not) Falling in Love (Manga) by Touya (Story), Ren Sakuma (Art), Yoimachi (Character Designs), Shiori Shiono (Adaption)
From a mundane existence to an extraordinary adventure! Luciana, once an ordinary woman, now finds herself reincarnated as the stunning villainess of an otome game. Well aware of impending plot twists, she's ready to rewrite her destiny and avoid catastrophe. She hatches a brilliant plan to live a peaceful life and avoid troublesome suitors. What could possibly go wrong?

Surprise! These persistent men refuse to take a hint! And if that weren't enough, she also possesses incredible, unparalleled magical abilities. What about this world has made her so special? (Square Enix)
Victoria's Electric Coffin by Ikuno Tajima
David Douglas wishes he'd never been born. What's the point of a slum boy enduring a miserable existence and ending up on death row? Victoria Frankenstein, a thirteen-year-old medical doctor, offers him a change of fate. Together they can help people and prove the worth of Victoria's invention, the Electric Coffin. After David becomes Eins, what kind of life will this second chance offer? (Square Enix)
Mobsters in Love by Chiyoko Origami
Akihiro Kashima is the right-hand man of the Sawatari mob, and he has a secret. He's been hopelessly in love for years-with his boss! As a trusted subordinate, he's subject to the head honcho's unintended acts of seduction. But with Akihiro's position in the group at stake, he couldn't possibly reveal the infatuation that plagues him. Stuck between duty and his feelings, something's gotta give! (Square Enix)
A Man and His Cat (Picture Book) by Umi Sakurai
When the man and the cat found each other, they found their happily ever after too! They may not speak the same language, but the man and the cat speak through their hearts as they share a life together.

One evening, when the stars shine especially bright, there's a great shooting star in the sky, and the man and the cat wish on the star for happiness. But something isn't quite right!

And when the cat runs off into the woods, he discovers a strange space creature! Will they be a new furiend or foe?! And can this galactic being bestow happiness upon the man and the cat?! (Square Enix)
My Dress-Up Darling Official Anime Fanbook by Shinichi Fukuda
The My Dress-Up Darling Official Anime Fanbook is a must-have for fans of the sweet and spicy rom-com that took the world by storm! (Square Enix)

These 100 gorgeous, full-color pages contain:
Galleries of hard-to-find promotional art!
Production materials from animation studio CloverWorks!
Staff commentary on every episode of the first season!
Exclusive interviews with the character designer, costume designer, lead voice actress, screenwriter, and series director!
A special message and illustration from manga creator Shinichi Fukuda!
Just Like Mona Lisa by Tsumuji Yoshimura
In this world, people are born without a gender. Their bodies shift toward their desired gender when they reach twelve years old. Until Hinase's eighteenth spring, they lived content without a gender. But the bubbly girl Ritsu and thoughtful boy Shiori pull Hinase in opposite directions when they both confess their feelings on the same day! Romance was never on Hinase's mind, so how can they respond? Hinase may be forced to choose a new identity as they arrive at the cusp of adulthood. Who will they choose, and who will they become? (Square Enix)
Soul Eater NOT!: The Perfect Edition by Atsushi Ohkubo
The birds are chirping, the sun is laughing… It's a beautiful day in Death City, Nevada, and fourteen-year-old Tsugumi Harudori is off to enroll at Death Weapon Meister Academy! But before she can become a rich and famous hero, she'll have to find a trusty partner (or two) who can wield her!

The saga of the Meisters and their Weapons takes on a whole new look in the gorgeous Soul Eater NOT!: The Perfect Edition!

Dive into Tsugumi, Meme, and Anya's adventures in a unique larger format on high-end paper stock that maximizes the dynamic art of the series! (Square Enix)
---
Source: Square Enix Anime Expo 2023 Panel