At its core, CONQuest Festival is a gaming and tech convention. The event organizer, AcadArena, encourages students and gamers to enjoy their hobbies in their communities, and if they want to, even make a career out of it. The quote "more than gaming" has stuck with me ever since the last convention. It may not be a traditional kind of work, but if it's something that you're good at and it makes you happy — I truly think it would be worth it. It can also be hobbies that have branched from gaming like art, music, cosplay, or whatever. CONQuest Festival perfectly captures the essence of this, which is why the second floor of the SMX was such a happy place.
The Fun and Free Areas on the Second Floor
During the first day of the convention, I honestly thought this area was really cozy and comfortable. The Tabletop Zone, Indie, resting, and activity areas were all very chill. However, things began to get crazy during the weekend! It was always so busy and lively, and it was actually really nice to see the con-goers enjoy the activities here. For example, con-goers were free to join Just Dance, OSU, Smash Bros, and the retrogaming arcade.
The Overwhelming QuestMarket
With plenty of artists and merchants in its lineup, the Quest Market instantly became one of the most popular highlights at CONQuest 2023. The area was overflowing with creativity and enthusiasm! There were various stores from self-made art prints, stickers, and plushies, to original Genshin Impact merchandise from Aezer, authentic American comics from Comic Odyssey, manga and light novels from Tankobonbon, a Drip Pouring Workshop by Unbox, and even a whole bunch of Advocacy organizations too. There was also Gank and Oasis for the cosplay booths, which featured some of the most talented local cosplayers in the industry.
In addition to the local Quest Market, there was the Special Guests' Quest Market — which I say with much love — was absolute fun and chaos. (No negative energies for now, I'll talk about the other issues later in the article.) The fact that we were all in the same room with these amazing creators, I can probably speak for everyone when I say that we were all definitely fangirling and fanboying A LOT.
The Genshin voice actors who came all the way from the other side of the world — Laura Stahl (Barbara), Khoi Dao (Albedo), Sean Chiplock (Diluc), Cory Yee (Gorou), and the Titas of Inazuma Anne Yatco (Raiden Shogun) and Ratana (Yae Miko) — were among my favorite booths. I honestly was not expecting to meet Khoi Dao and Laura Stahl in the first hour of the convention, let alone have a full conversation with them!
After stumbling around my words, I managed to give my gifts which were an unofficial Jollibee hat and a few of my art prints. I asked if they could sign my artwork, but sadly, their autographs have a fee due to their contracts. At that point, I was just already so happy to meet them in person. (Pretty much an emotional blob inside just ugly crying tears of joy. Relate, anyone?)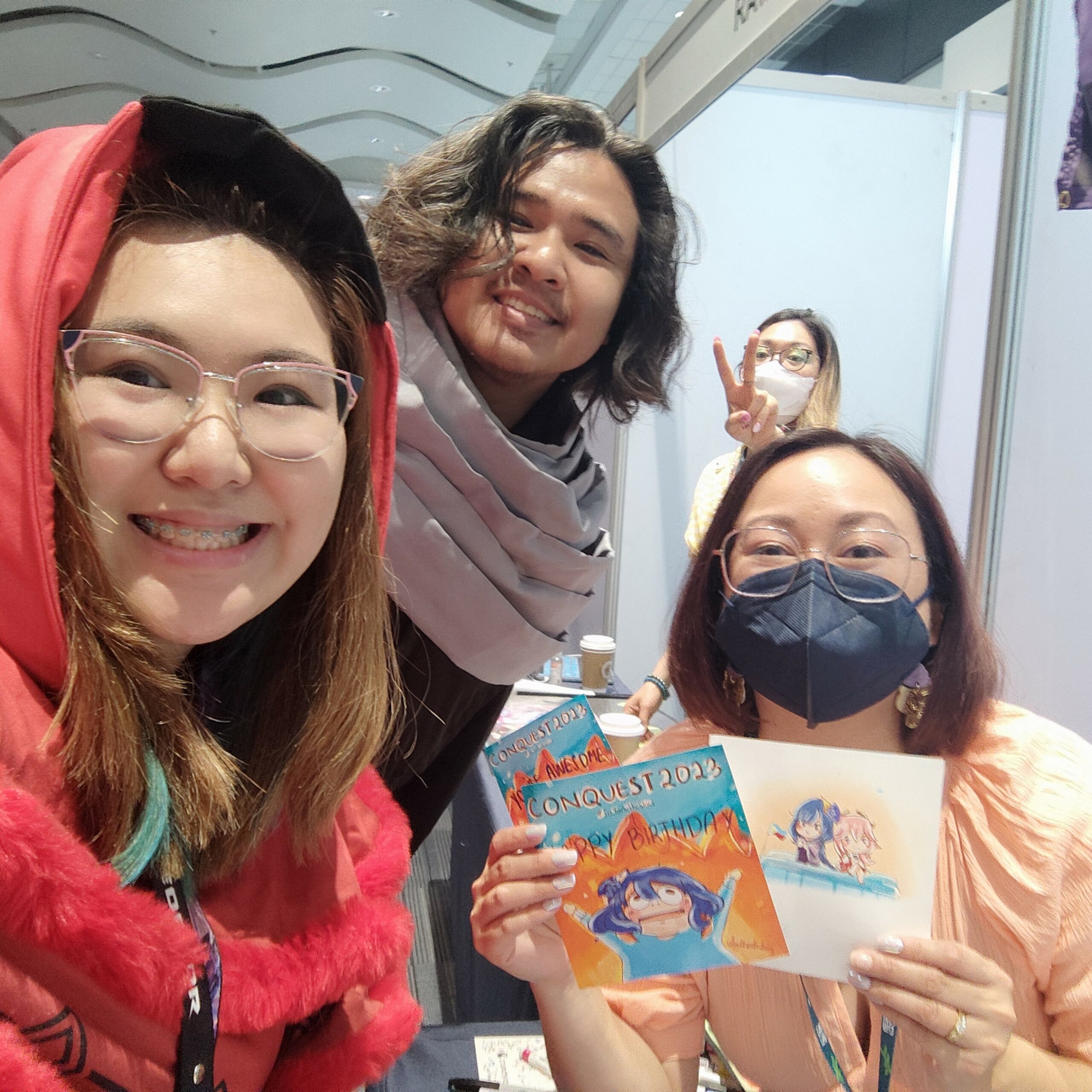 Another voice actor worth mentioning in the crowd is our very own Vannile Velasquez, the voice behind Zeri in Riot Games' League of Legends and Neon in Valorant. Adam McArthur, the voice behind Yuji Itadori in Jujutsu Kaisen's English dub, was also here. For the cosplaying personalities, queues went above and beyond, especially for Charess, Byoru, Hakao, Kitz Cua, and Rurusama. The whole Scamily was also there. The struggle was real when it came to following their booth schedules, so just imagine con-goers anxiously coming back and forth to check the booths while some of the lucky ones stayed determined and patient in the lines.
On the other end of the Special Guest Quest Market, the Artists' booths were a bit calmer… or so I thought. Hunghang Flashbacks, Little Things PH, Libreng Komics, Aeonix, and SSKAIT were also visited by plenty of con-goers who love the artists' works. I myself splurged on a few things because a lot of the merchandise was relatable to Filipino and anime moods. Most of all, actor and host Eri Neeman made a special appearance at the SSKAIT booth on Day 1 and it was definitely one of the highlights to see their online gags in person.
In addition, an impromptu meet and greet with Gloco happened in this area on the third day of the convention. After a long day of chaos, it was actually wholesome to see that the line formed naturally and uniformly just because people patiently waited to see the streamer. One of them was The Group Chat PH, the same podcasters I met in Cosplay Carnival 2023, and they awarded Gloco with a medal and the title of "Blue Egoist" (a Blue Lock reference) after the streamer scored a goal with a football.
Lastly, there is one particular thing that made my CONQuest 2023 convention experience! One of the highlights of the second floor's advocacy area is this perfect cosplay – the cabbage merchant from the animated series Avatar: The Last Airbender who roams around with a cart full of real cabbages.
This cosplayer actually represents Urban Farmers PH, an organization that encourages people to support local farmers. The cabbages in the cart were in fact, for sale, and I had the honor of meeting Sir Jimmy, the farmer who grew the cabbages. If you'd like to know more about them, support the advocacy, or be a volunteer, please go visit the Urban Farmers PH.
CONQuest 2023 was a lot to process, especially after seeing so many popular guests and after being around a large community. I honestly made a lot of good memories here too! But before I end my article though, I do think it's only fair to mention the mishaps of the convention as well.
As many con-goers have expressed, one of the biggest struggles that CONQuest 2023 faced was overcrowding at the SMX Convention Center, which I will tell you more about on the last page of my article.