Voice actress and singer Akari Kito announced her 4th single, titled "Dear Doze Days," which will release on February 8th, 2023. The song will serve as the ending theme for the upcoming anime Kaiko Sareta Ankoku Heishi (30-dai) no Slow na Second Life. Also included in the release are an untitled song and instrumental versions of both of these songs.
Akari's 4th single will come in three different versions; regular edition. limited edition and anime edition. The limited edition will include bonus items such as the music video and the making of it, as well as a booklet. With the anime edition, a special illustrated jacket from Kaiko Sareta Ankoku Heishi (30-dai) no Slow na Second Life will be included. The limited edition is priced at 1,980 yen ($14.20), while the regular and anime editions are priced at 1,300 yen ($9.30).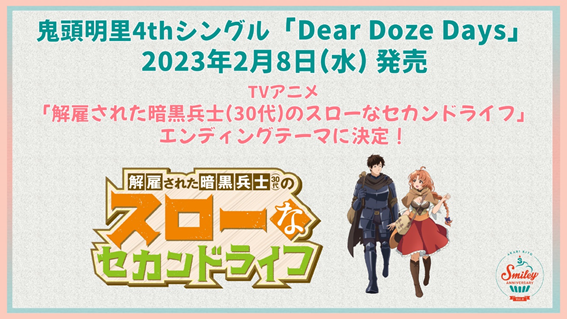 Akari Kito is a singer licensed under Pony Canyon and recently released her 2nd album, Luminous. As a voice actress, she is best known for her role as Nezuko Kamado from the hit series Demon Slayer and Tsukasa Yuzaki from Tonikawa: Over the Moon for You, Nene Yashiro from Toilet-Bound Hanako-kun and Sakura Adachi from Adachi and Shimamura. She placed 5th in the Summer 2022 Seiyuu of Season rankings for her roles as Kate from Shadows House and Suzune Horikita from Classroom of the Elite.
Source: Official Twitter, Official Website
© 2019 PONY CANYON INC.