These monthly articles will serve as a guide for English manga collectors and compile every new volume's release date from multiple publishers all in on. Below is a complete list of all the manga set to release in February 2022. It is sectioned off by the publisher and ordered by the release date. The list will be updated accordingly whenever publishers make a new announcement.
VIZ Media
To nobody's surprise, VIZ Media is bringing us another great month of new manga. With some highly anticipated debuts and new volumes of fantastic shonen series such as Black Clover, Chainsaw Man, Dr. Stone, and Jujutsu Kaisen, there's much to be excited about coming from VIZ Media in February. One interesting debut stands out and that is Deadpool Samurai. Marvel is clashing with Jump+ and bringing Deadpool to Japan in a super collab series!
Seven Seas
Seven Seas has an impressive February lineup. Their new 31 volumes hitting shelves is the second-most among major publishers while their nine debut series' are by far the most in the month of February. A couple of new and interesting titles include I Can't Believe I Slept With You! by Miyako Miyahara and The 100 Girlfriends Who Really, Really, Really, Really, Really Love You by Rikito Nakamura (story) and Yukiko Nozawa (art). Meanwhile, Volume 14 of Mushoku Tensei: Jobless Reincarnation looks to be headlining Seven Seas' February releases.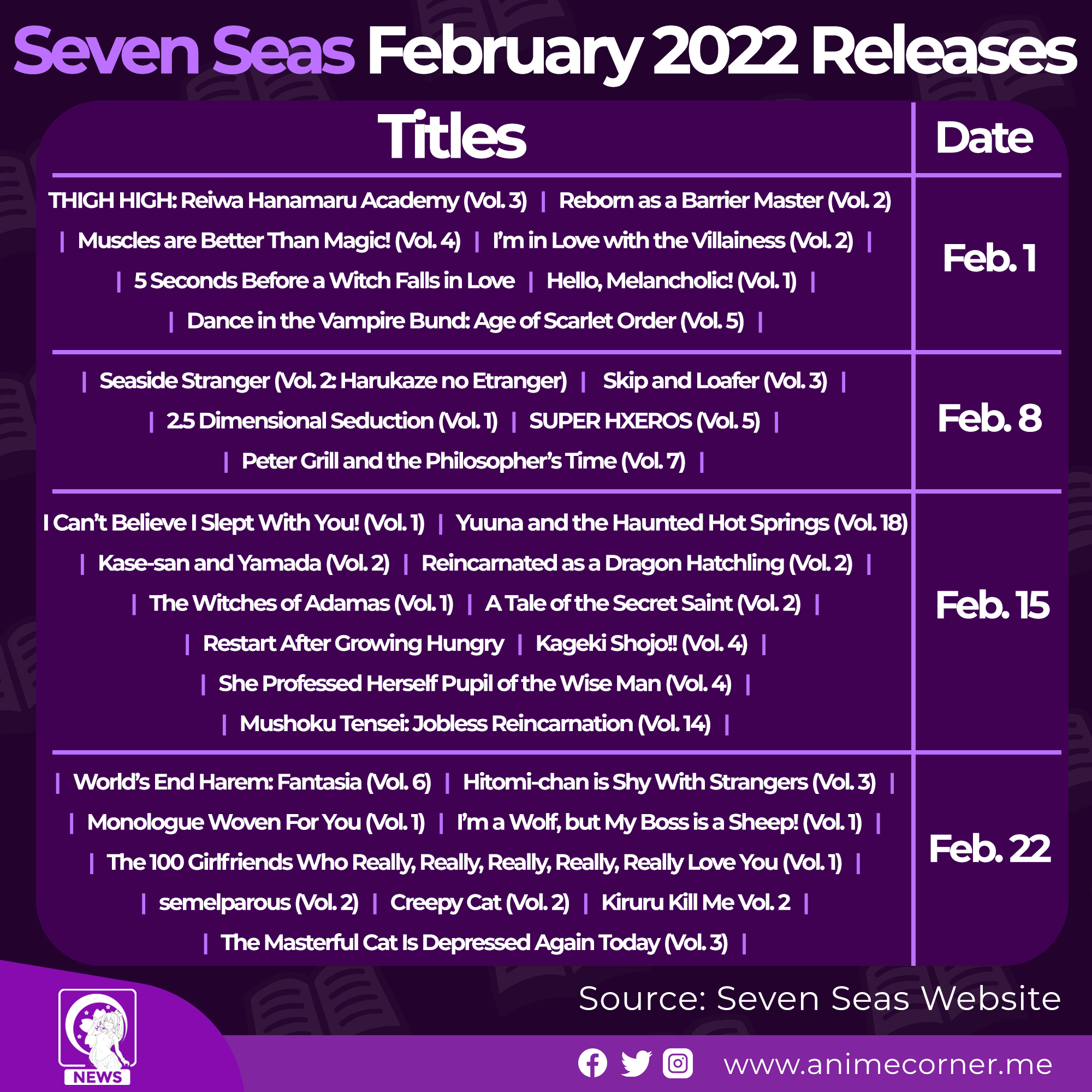 Yen Press
While many acknowledge Yen Press for their light novel catalog, they're also releasing some new volumes of manga from some big series this February. Re: Zero, Kakegurui, Love of Kill, Combatants Will Be Dispatched!, and Goblin Slayer all have new English volumes hitting shelves. From the Red Fog is a horror manga by Mosae Nohara that will also be making its much anticipated English debut in February.
Kodansha Comics
Last, but certainly not least, is Kodansha's February releases. Loaded with new volumes for hit series such as Edens Zero and BAKEMONOGATARI, Kodansha is also delivering new volumes that collectors will keep their eyes out for—the first two omnibus' of the Seven Deadly Sins manga and The Best of Attack on Titan: In Color.
So what manga will you be collecting among the February 2022 releases?
Featured image: Chainsaw Man (Vol.9), The Best of Attack on Titan: In Color (Vol. 1), Deadpool Samurai (Vol. 1)