The One Piece episode 993 starts with an edited opening to show Yamato, which also includes new scenes with the character. Voiced by Hayami Saori, the character debuted only a few episodes ago, but is already a fan-favorite. The talk with Luffy continues from last week, as she explains how she met Ace and wanted to leave the island with him. She mentions that Ace talked a lot about Luffy, whose short reaction hit really hard. We quickly move on to the Akazaya samurai, who split from Law and face Kanjuro.
The traitor talks about how he beat Momonosuke when he tried to run, and that he barely clung to life. This angers the loyal retainers, and we get a badass moment followed by "The Very, Very, Strongest" OST. Raizo proclaims their past struggle and tells Kanjuro they will slice him up if he tries to stop them. Although Kiku seemed to still have hope for Kanjuro, that's all gone after further provocation, and now they're about to face each other seriously.
Related:
One Piece Reveals Special Visual for Episode 1000 Featuring Luffy vs Kaido
Yamato From One Piece Gets Adorable Plushie Versions
Back to Yamato and Luffy, she tells him that she's been locked up since she was eight. She challenged Kaido a lot of times, but always failed. Since he told her the cuffs he put on her would explode if she left the island, she was scared despite thinking it might be a lie. She also tells Luffy that he is more like Oden than her, since she never managed to get outside and be free. Then Luffy casually asks to remove her cuffs, shocking her. He already learned to control his new Haki, and we can already tell he'll be able to do it for her as well. However, Kaido and his announcement interrupt them in this episode.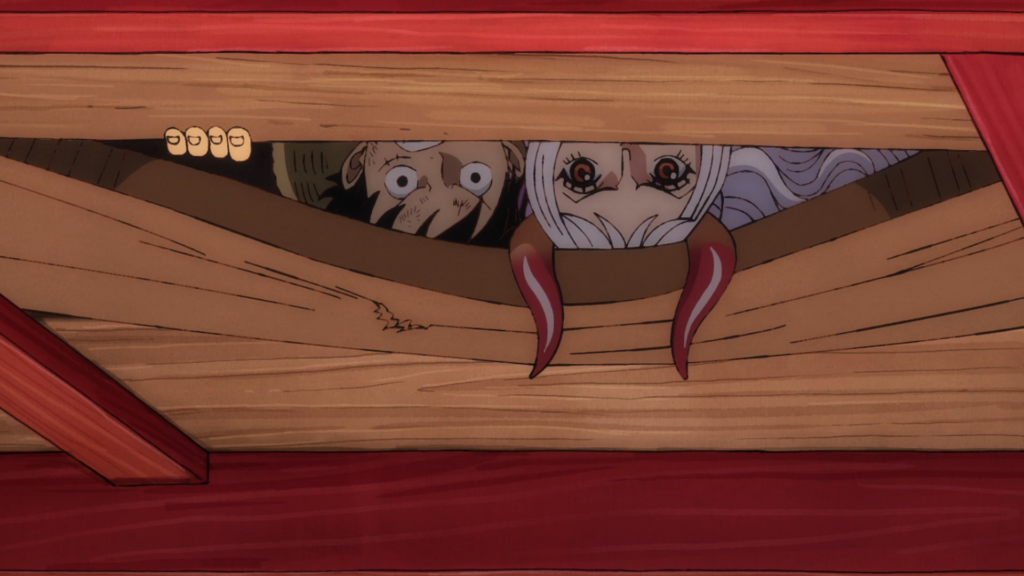 He says they're allying with Big Mom for a huge move against the World Government, though they'll need to stop the raid in their home first!
One Piece Episode 994
You can watch One Piece episode 993 on either Funimation or Crunchyroll. Episode 994 titled "The Akazaya Face-off! Kikunojo vs. Kanjuro!" will premiere next week on October 3. We'll finally see Kiku face Kanjuro for real, while Kaido's plan might get set back a bit.
Related:
One Piece Reveals Special Visual for Episode 1000 Featuring Luffy vs Kaido
Eiichiro Oda Sends Message to Fans for After Volume 100 Release

You can also catch up to the latest One Piece manga chapter for free on either VIZ website or MANGA Plus. 
All images via Crunchyroll
©Eiichiro Oda/Shueisha/Toei Animation