Episode 8 of Osamake: Romcom Where The Childhood Friend Won't Lose finally premiered and the pool/beach scenes have begun! One of the best moments everyone have been waiting for. What's more, is that someone steps into the protagonist's harem!
New Harem Contender
A new harem contender decided to enter the fight! Despite the fact of having to face Shirokusa and Kuroha, she eagerly decided to keep things between them and Sueharu at a stalemate. Without further ado, here she is, entering the ring with her cuteness – Momosaka!
Momosaka and Rena actually overheard Tetsuhiko and Sueharu's conversation. After hearing such things, Momo was intrigued by how innocent and dense Sueharu can be. Thus, she decided to keep things between Sueharu, Shirokusa, and Kuroha at a stalemate. Until then, she'll do everything necessary for Sueharu to see her as a woman.
Shirokusa's Swimsuit
What's a beach episode without swimsuits? Of course, everyone along with Sueharu would surely be agonizing over these scenes. There's no denying that these girls look stunning in their beach outfits.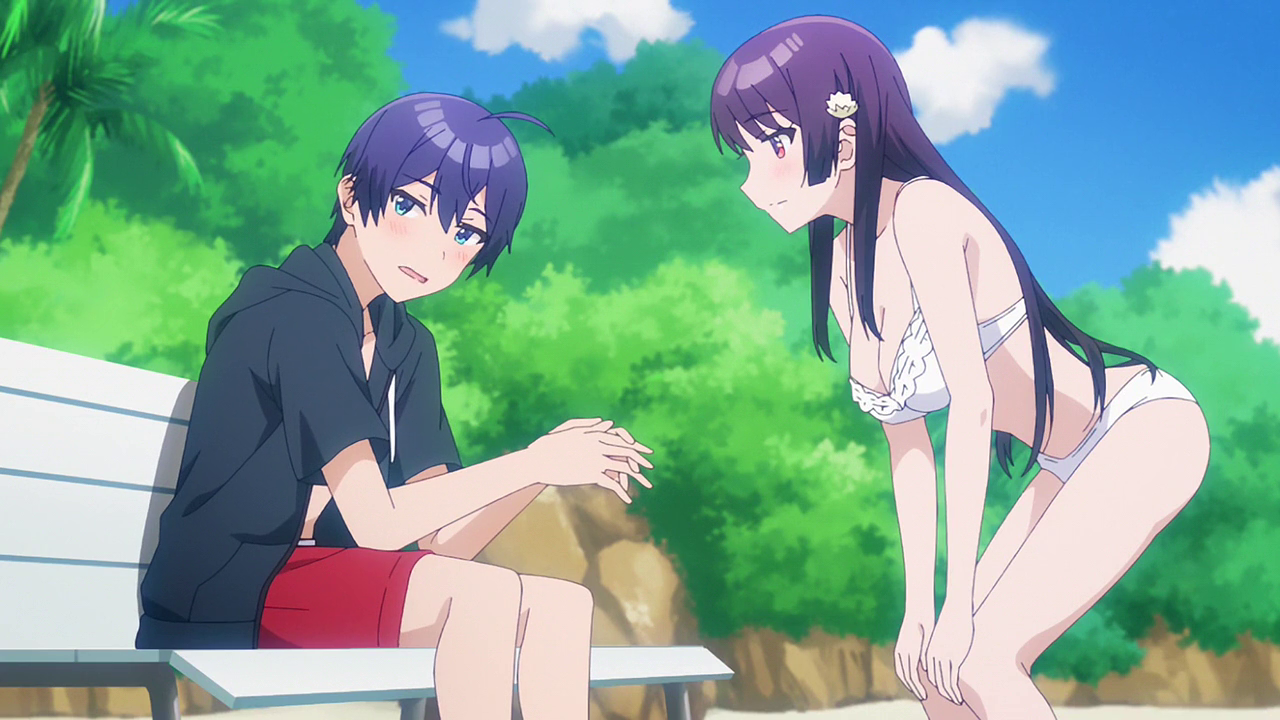 What's more, is that Sueharu gets VIP treatment from Shirokusa – wherein he gets a special look at her swimsuit! Imagine someone texting you to come over just to see her wearing a swimsuit. Just how bold is that?
The Kiss?
For starters, Shirokusa did actually plan Ultramarine Channel's first summer outing. This is to take advantage and make her move on Sueharu. But who would expect things would escalate at such heights?
Shirokusa spent her alone time outside feeling disappointed that she won't be able to prepare Sueharu's favorite meal. With that, Sueharu comforts his childhood friend and thanked her for doing so much for him. As the scene escalates, so is the drama.
But would Sueharu fall for this "trip magic" and would they actually kiss?
The Colorful Sisters
Having the first day of Ultramarine Channel's summer outing concluded, Shirokusa and her sisters finally arrived at the villa. And for the second day of the vacation, the Colorful Sister takes part in it!
---
Let's all find out what would happen as Kuroha and her sisters arrive and support the series here in our weekly polls!
You can watch Osamake episode 8 on Crunchyroll or Muse Asia on YouTube. Once you're done watching, you could read more features here.
All images from Muse Asia's Official YouTube Channel
Osamake Official Twitter
Osamake Official Website
©2021 二丸修一/KADOKAWA/おさまけ製作委員会