The ongoing series Osamake: Romcom Where The Childhood Friend Won't Lose revealed a new set of merchandise available for reservation on May 17, 2021. The set contains a pillowcase and a CD containing voice lines – each of the three main heroines.
Moreover, the reservation opened last May 10, 2020, and will last until July 8, 2021. Better check it out and make your reservations while it's available!
The set can be bought individually per character or as a whole. Each set will contain one pillowcase and one CD containing voice lines by their respective voice actors.
The lively, cute, energetic big sister voiced by Inori Minase – Kuroha Shida! She helped our main protagonist Sueharu Maru in exacting revenge on his first love.
You can reserve a Kuroha Shida set here!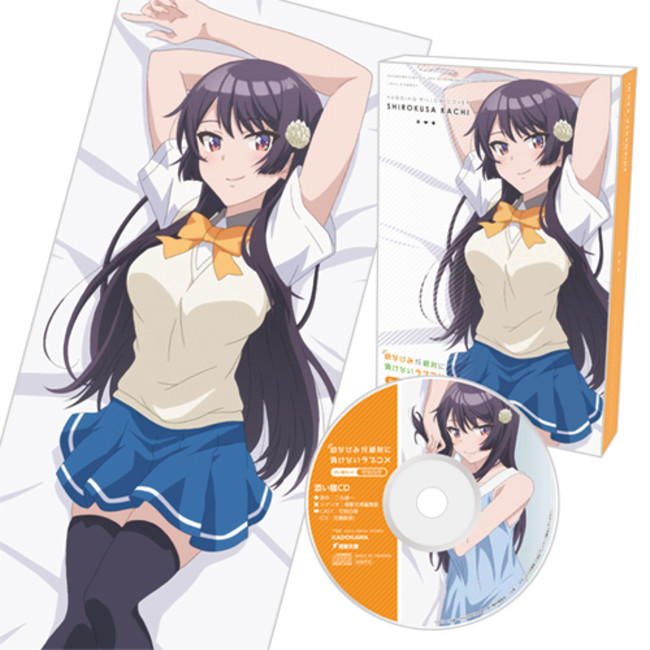 An elegant, strong-willed, and successful author voiced by Ayane Sakura – Kachi Shirokusa! She's also the main protagonist's first love.
You can reserve a Kachi Shirokusa set here!
A famous actor and the main protagonist's kouhai who barged in and stole the spotlight from the other two – Maria Momosaka! She's the little, competitive, playful kouhai who idolized Sueharu's talent in acting. This cute, lively kouhai is voiced by no other than Saori Ōnishi.
You can reserve a Maria Momosaka set here!
Individual sets are available for reservation at a price of ¥ 16,940 ($150). Meanwhile, the complete set ranges at a price of ¥ 51,700 ($470).
You can reserve the complete set here!
Osamake Synopsis
In case you don't know what Osamake is about, you can read the synopsis below:
She smiles just for me. Her name is Kachi Shirokusa and she's even an award-winning high school girl writer! And she's beautiful! I know that she's totally out of reach for me, a normal high school kid named Maru Sueharu! But I think something's there… No, there's definitely something there! Or so I thought… but Kachi has a boyfriend?! Seeing me depressed, my friend ever since we were little who's cute, cheerful, and loves to look after others, Shida Kuroha… who also apparently had no problem telling me that she likes me for some reason just suggested, "Let's get revenge."
(Crunchyroll)
---
You can watch the series on Crunchyroll or Muse Asia on YouTube. Once you're done watching, you could read more features here!
Additionally, you can support the series here in our weekly polls!
Dengeki Bunko Official Website
Osamake Official Website
© KADOKAWA CORPORATION 2021
©2021 二丸修一/KADOKAWA/おさまけ製作委員会