We're already on the last week of January 2022! We're also counting down the coming of the Lunar New Year. What will the Year of the Water Tiger have in store for us? Welcome to our fourth VTuber News Round-Up for 2022.
The Ugly and the Bad
Calliope Mori takes a break
Let's start with the ugly news: Calliope Mori is being targeted again. First, a red superchat which led her not to read all superchats which she deemed harmful for her and her friends especially her Hololive EN colleagues.
Then, a "fan art" appeared on Twitter, in which Calli herself replied. She deleted the reply afterwards upon the advice of her fans. We'll move on from this matter as we link back to this Reddit thread describing the whole situation. Long story short, Calli had a bad week and we hope it won't get worse. Stay strong, Calli.
Voice behind VTopia's Melantha quits due to health issues
Meanwhile in Thailand, we have a group named VTopia, which announced on Twitter that the voice behind one of its talents, Melantha, quits effective January 27, citing health reasons. With help from our Thai colleagues, we learned that the voice behind Melantha tried to recover her health to return to her activities, but it's not getting better. We wish the talent all the best of health and that she survives this ordeal.
KoMETA Virtual Live's Elaine tests positive for COVID-19
KoMETA Virtual Live has just sorted out the internet connections for their talents, but fans of its flagship talent Elaine have to wait longer as she tests positive for COVID-19. It all started with that one single tweet: "I'm eating (Jollibee) Chickenjoy. But why it doesn't taste like one?" Get well soon, Elaine.
For the record, the Philippines logged 17,382 new cases as of January 29, 4pm Manila Time. A day before, the country logged in 18,638 new cases.
The Good
As mentioned earlier, this week's VTuber News Round-up is filled with much more good news for everyone – from debuts, to milestones and events, which we will mention first.
First V-Festa in Thailand held successfully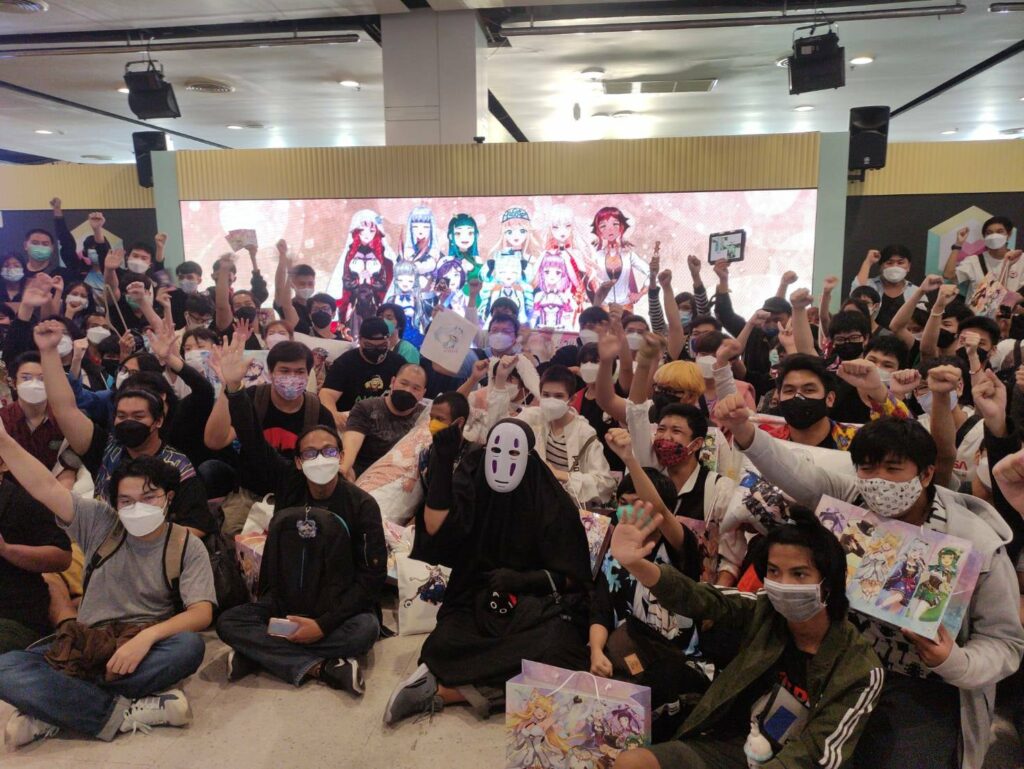 Let's go back to Thailand, which has concluded its first V-Festa in Bangkok. This event is part of Japan Expo Thailand 2022, a physical event held at the CentralWorld mall during the weekend of January 21 to 23. Aside from popular Thai VTubers, MyHolo TV talents Liliana Vampaia, Lunaris Urufi and HORI 07 also participated in the said event.
In a 25-minute video, VOTAKUN showed us what V-Festa is: Meet and Greets through a large LED screen, Drinks and Merch galore, and VTuber Postcard Gacha. We salute the guy for spending a lot for a chance to obtain signed postcards.
Aisha Channel, MyHolo TV's Liliana Vampaia reach subscriber milestones
Congratulations to Aisha Channel and MyHolo TV's Liliana Vampaia for reaching their subscriber milestones! Aisha has reached 400,000 YouTube subscribers, while Lili has reached her 100,000-subscriber milestone.
Hololive Production: Pop-Up Parade OkaKoro, Stars Collection, HoloTalk with YAGOO
There's a lot of VTuber News on Hololive this week, such as Minato Aqua's 2nd concert which you can watch the first part of on YouTube for free. Here are the other ones:
Nijisanji: February Concert Lineup released, New Outfit Reveals
Meanwhile, Nijisanji has a lot of new outfit reveals, plus more:
New VTuber Debuts!
Another set of good VTuber News are the debuts! Here's what we are highlighting for this week's recap:
Kizuna Ai's Hello, World 2022 concert crowdfunding exceeds 551% – and counting…
Kizuna Ai has set up crowdfunding for the free Hello, World 2022 concert on Ubugoe. As of this writing, 730 people have pledged in a total of JPY 16,539,444, or 551% of its target ahead of the February 14, 2022 deadline. Perks include name inclusion in the credit roll, plus other physical perks per pledge tier – higher tiers will receive a Blu-Ray of the concert.
---
In Other News
Illustrator Yueko wraps up VTuber work
Illustrator Yueko is wrapping up her last VTuber work. After one and a half year of model making, it looks like Yueko's moving on to the next chapter of her life. While some may disagree with her views – to a point that she and her Chaian children gets certain amounts of hate – she persevered. We wish her all the best.
Mito Entertainment closes applications for audition
Philippine-based VTuber group Mito Entertainment opened its VTuber auditions last January 19, and they have officially closed it January 28 due to "overwhelming number of applicants" they have received.
What will the Year of the Water Tiger have in store for us? One thing's for sure, we're finishing the application process for Anime Corner's VTuber Section, and we thank everyone who applied. See you in the next VTuber News Round-Up!
Also read past VTuber News Recaps:
January 17, 2022 · January 9, 2022 · January 2, 2022
Banner Photo: Inugami Korone Pop Up Parade figure © COVER Corp / Pomu Rainpuff © ANYCOLOR Inc. / © Aisha Channel