Anticipation for Idaten Deities has been rising ever since the MAPPA showcase. On Thursday, the series made its big summer debut with two new episodes. And when I say the series starts off with a bang, words won't do it justice.

From the creator of the controversial series, Interspecies Reviewers, comes a possible hit summer anime.
In this article, we'll dive into why Idaten Deities is a must-watch and how it stands out from the rest of the summer lineup.
For starters, the series may possibly have the best opening theme of the year so far.
Summer 2021 Has A Hit
In a summer lineup filled with isekai, slice of life, and romance, Idaten Deities is an action-packed breath of fresh air. Not only in genre, but in just about every other facet of anime possible. This summer lineup is considered "weak" in comparison to the winter and spring.
However, Idaten Deities has something to say about that.
The series brings a banging soundtrack, unique art style, and lovable characters, leaving viewers hooked right from the very beginning.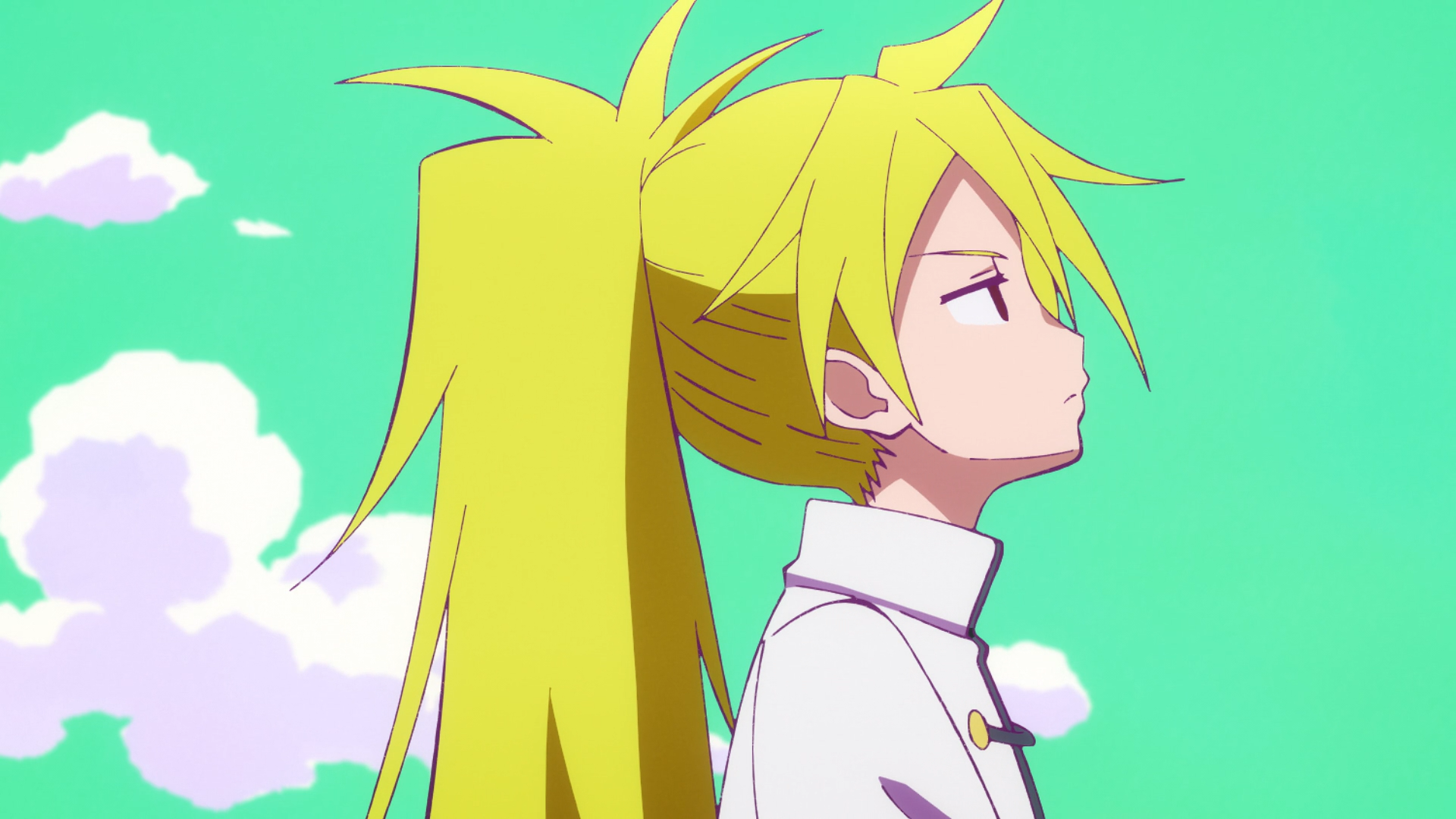 A factor many fans might appreciate is that the series wastes no time at all.
Idaten Deities gives fans an epic fight scene, incredible feats, and dark humor right out the gate. The animations are fluid and the sound design is impactful.
Not only that, but the switch-up in color palettes used in Idaten Deities are beautiful. Look at the pictures below in different environments for an example.
The use of colors in this series are reminiscent of certain scenes and environment in Wit Studio's series Great Pretender.
A phenomenal series that was released on Netflix in 2020.
Cool Main Characters
Viewers also know who is who in the first couple of episodes leaving no confusion.
We immediately meet the main group.
Rin (pictured earlier in the article) is currently the strongest deity with a brutal training regiment and short temper. She trains Hayato (pictured below), a smart-mouth, care-free younger deity with a knack for fighting.
Paula (pictured above) is the kind one of the group while Ysley (pictured below) is the brains. Both are Hayato's friends who end up training under Rin as well.
Ysley, despite his looks, ends up performing a kick that breaks the sound barrier. I failed to make it sound as cool as it was, so watch the first episode.
Each of them brings their own unique personality and view of the world as deities. Not to mention, their character designs fit their personalities perfectly.
Idaten Deities Episodes 1 and 2
Releasing the first two episodes is becoming a trend with anime this year. Vivy: Fluorite's Eye Song did the same in the spring. And Fena: Pirate Princess will do so as well on August 14th.
Much like Vivy: Fluorite Eye's Song, the 2021 Best New Anime of the Spring Season, Idaten Deities made this work to perfection.
In the first episode, viewers know the backstory and the main characters as soon as they hit play. Any questions that arise are immediately answered in the second episode.
But rather in a serious tone like Vivy, these questions are answered in the most Idaten Deities way possible — with humor. Luckily, the question of how they became deities is explained in episode two.
It's simple yet mysterious enough to make it interesting.
Just don't expect an answer from Rin on any question you have, even though she's the oldest and most powerful deity alive.
Interesting Villains
One of the best parts about both episodes is that they introduced two villains right off the bat.
On one hand, we have Dr. Obami. A mad scientist that is still shrouded in mystery who somehow knows the history of demons and deities. A mystery that Ysley is trying to figure out.
The other is Piscalet (thumbnail image), a sadistic military general with a personality eerily similar to Esdeath from Akame Ga Kill. A villain who is simply ruthless with incredible strength.
It wasn't confirmed nor denied that she is a deity. However, she lifted a tank with her bare hands and chucked it.
So it's okay to assume that she definitely is.
We're also introduced to Nickel, a character that has the personality of a child but a dark side to that of a prime villain.
Within a minute of meeting her, she's already getting rid of spies trying to eavesdrop on a meeting.
Squeezing enemies to death with a giant grotesque hand just gives you a small glimpse of how brutal Idaten Deities can be.
MAPPA Has A Potential Gem On Their Hands
It's too early to make any rating decisions off the first two episodes. However, MAPPA's new series left an incredible impression and lived up to the hype.
Not to mention, the cast and staff are arguably the best of the season. You can see a list of the cast and staff here.
Quick fun fact: the creator of Kyoto Animation's hit series Miss Kobayashi's Dragon Maid, Cool-kyou Shinja, is the original character designer for Idaten Deities, created by Amahara.
Next Week
Episode 3 of Idaten Deities will air next Thursday, July 29th, on Crunchyroll.
If you thought episodes 1 and 2 of Idaten Deities were great, then make sure to vote for them in our weekly poll!
What was your favorite moment from the series premiere? Do you have a favorite character?
Leave your comments about the episode down below!
All images via Crunchyroll
©「僕のヒーローアカデミア」製作委員会©堀越耕平/集英社