Episode 5 of season 2 of Girlfriend, Girlfriend premiered on November 4th where our characters take a summer camping trip. However, the camping trip goes characteristically chaotic as we find out Mirika is behind the scenes scheming her way into Naoya's heart. We knew at the end of episode 4 that Mirika was cooking up some mysterious plans, and we quite literally get a taste of her cooking in this episode.
"Getting Ready with the Girlfriends"
Naoya, Nagisa, Saki, and Shino are all shocked to find that they somehow won an expenses-paid summer camping trip. Little to their knowledge, Mirika, the fame-obssesed internet influencer itching to win Naoya's heart, spent a fortune of cash to make their surprise camping trip all part of her secret plan. If you reflect on episode 3, you'll remember the emotional scene where Mirika cries after getting a spark of hope from Naoya that he might be interested in her. It's all because of that scene that we get episode 5.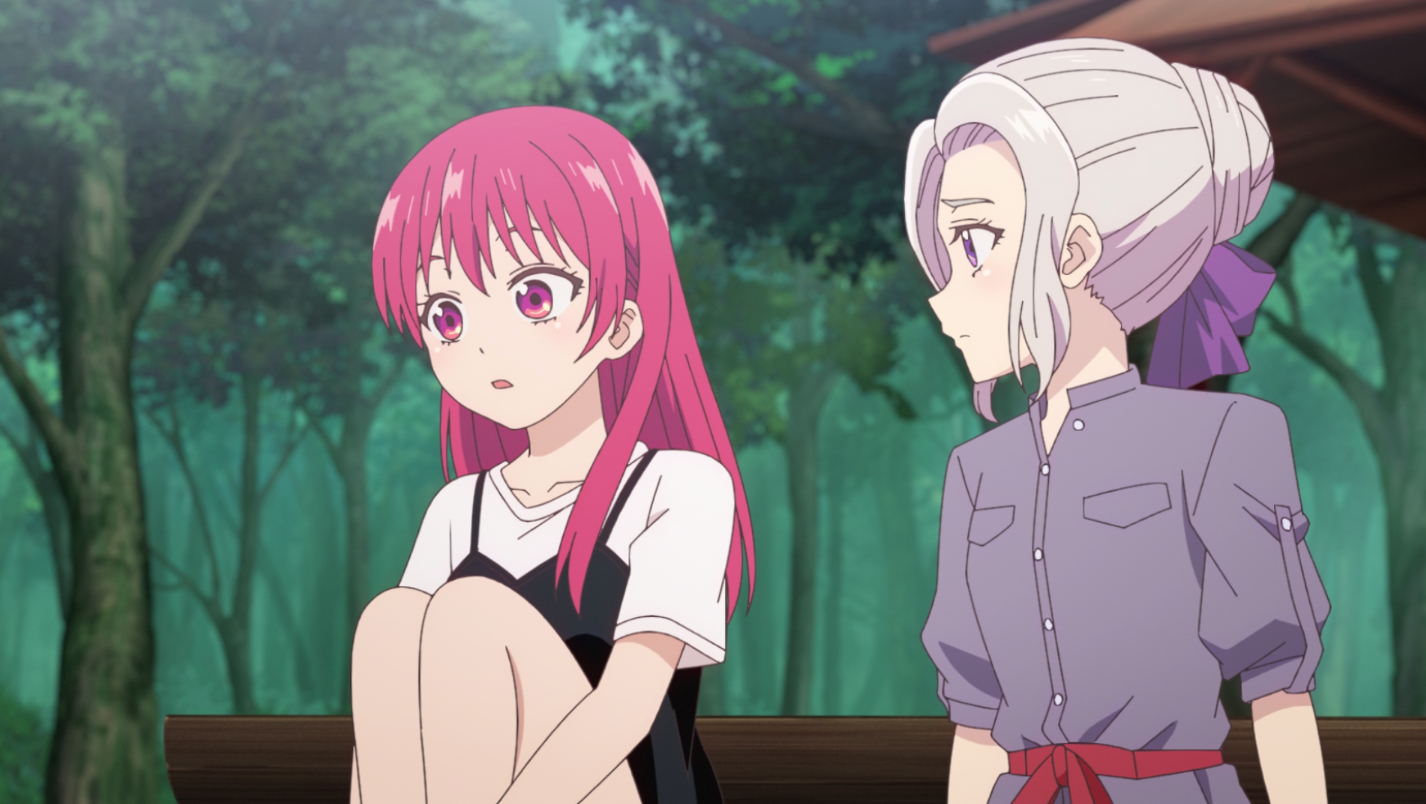 Mirika's plans aside, we get an uncomfortably long scene of Saki harassing Shino – she fondles her chest for an entire minute of the episode. Through this strange moment, we do at least get some kind of closure on why Saki wants to have a moment with Shino. She feels as though there's something wrong with Shino, and starts to address it when Naoya calls Saki on the phone explaining there's a disaster at the campsite. This disaster is just the incapability of Naoya and Nagisa to set up camp, but it cuts Shino and Saki's conversation short – one that I'm sure we'll come back to in a later episode.

The second half of the episode is where Mirika inevitably shows up, her little sister, Risa, following close behind her. It is here that we finally realize there is a character with some common sense in this show. Risa is originally unaware that the boy her older sister is pursuing is in a relationship with two girls at the same time. After Nagisa and Saki both declare to her that they are both dating Naoya, Risa does something we've probably wanted to witness for a long time. Risa slaps the living daylights out of her older sister, exclaiming that Mirika is way too good for a two-timing creep. Thank goodness for some common sense in a show that has none.
As if tricking a group of people to go on a camping trip so that you can pursue your crush wasn't enough, Mirika pushes the limits of her insanity as she poisons the camp food, causing Shino, Naoya, Nagisa, and Saki all drop to the ground and faint. This is going to finally give her the alone time with Naoya which she'd been craving so much. Despite my feelings on Mirika, I don't think the show would be quite as entertaining without her.

It's clear that the next episode will have Mirika continuing her sinister plot. At this point, I won't find myself shocked at the lengths this girl is willing to go to. Girlfriend, Girlfriend's season 2 is nearly at its halfway point, and I can confidently say I'm enjoying this season more than the first. The next episode airs on November 11th, and all I can tell you is that, given Mirika is heavily involved, it's going to be a wild ride. If you are enjoying the series, make sure to vote for it in our weekly polls.

Girlfriend, Girlfriend Season 2 episode 4 Score: 7/10
Images Via Crunchyroll
© Hiroyuki, Kodansha / "Girlfriend, Girlfriend" Production Committee 2023