"Zombieland Saga: Revenge" episode 12 is out! Franchouchou and Kotaro are here to take their revenge once and for all! The finale episode is titled, "The Greatest SAGA in History."
"Zombieland Saga: Revenge" begins with Kotaro directly asking the governor to fix the roads around EFS. Franchouchou must perform their concert. We also discover that the Okoba is working on the favor Kotaro asked—he's in Tokyo! At the shelter, the zombie girls feel tense about their upcoming concert. They also end up going to their radio show.
On air, Saki speaks some encouraging words. She talks about how the disaster has been rough for everyone. Franchouchou wants to cheer for everyone at EFS! It's crazy, but they hope it will make them smile, even just a little bit. That's what it means to be an idol! 
Extraordinary support! Ei-yah!
Fast forward to a day before the concert, the zombie girls begin their long journey to EFS. The city is still a mess everywhere. At the stadium, Kotaro is nowhere to be seen. Plus, the place is so gigantic that the empty space is deadly terrifying.
Suddenly, the loyal death metal fans arrive at the stadium! The moment shifts into an emotional and awesome scene. Massive crowds start to march in! Everyone whom Franchouchou met throughout the show is there —the Biker gang, Dorama Dance Team, Lily's Dad, the old ladies and the kids too. Maimai even leads the fans with a powerful cheer. Plus, the Tori drive-in chicken mascot makes a perfect superhero landing! 
In addition, Oozora Light, Iron Frill, and White Ryu are there. It's wonderful that Okoba is able to bring all sorts of media over. Not only do they have national exposure but sponsorship from businesses as well. We're seeing not only Japan, but the whole world come together for Saga in an extraordinarily beautiful way.
This moment in "Zombieland Saga: Revenge" episode 12 is definitely an epic moment. Overwhelmed with emotions, Sakura screams at the top of her lungs —SAGA! REVENGE! 
Shine Bright, Saga!
The stadium eventually gets filled from edge to edge. There's glow sticks everywhere as Franchouchou makes their grand entrance! The first song is called "REVENGE", the same song from the first episode. It's very fitting in the moment, as it talks about fighting on and not giving up. It's so powerful and emotional, you can't help but cheer Franchouchou on. Shine bright and blaze on! 
Interestingly, the Legendary Tae gets her own legendary moment as she duets with the audience! Franchouchou also presents their second song, "Shine." It's so wholesome to watch, especially after everything that has happened throughout the series. At this point in "Zombieland Saga: Revenge" episode 12, I'm cutting onions.
Backstage, the zombie girls talk about how EFS is but a milestone for them. Moved by their encouragement, Kotaro breaks into tears. He's a grown adult but he's sobbing on the floor. He teases them for being "wimpy but confident zombies." Anyway, it's an encore! "Oikaze Travelers" is a beautiful song and an amazing final performance. Sakura is teary-eyed and all the girls comfort her. The entire stadium cheers loudly for Franchouchou. It's an epic SAGA! 
The episode and season come to an end as the show title card appears. In the last ten seconds, a mysterious spaceship (I kid you not) flies above and… destroys the city!? 
A Beautiful Grand Finale
What an amazing finale! I am honestly so happy. There were so many good moments, not to mention the epic scenes! I have no words to express my feelings except this Kotaro moment. I really cried with all the overwhelming moments, especially the songs.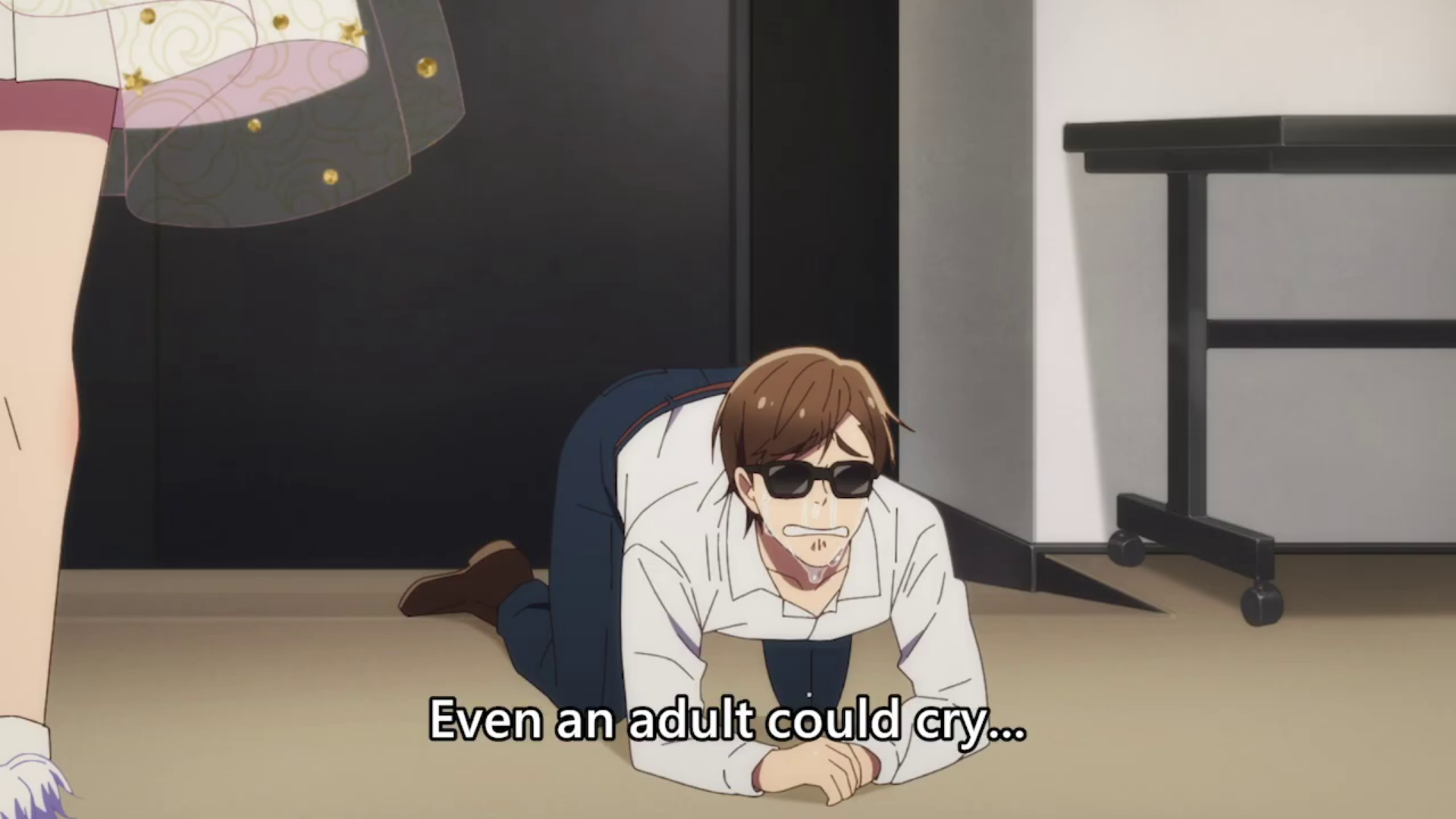 "Zombieland Saga: Revenge" is truly a heartwarming story. Aside from its comedy about "zombies being idols," it also gives wholesome messages about being an inspiration to one another. It's very moving to see all the people whom Franchouchou met appear at the concert.  When the crowd assembled, it was so cool. Goosebumps and emotions everywhere!
Heartwarming as it is, "Zombieland Saga: Revenge" episode 12 was absolutely epic. The concert itself was so fun (and emotional) to watch! The songs are so heartfelt, empowering, and a bop! In addition, the animation was flawless. MAPPA definitely leveled up their CG and 2D animation game for that half of the show. It genuinely felt like a concert. My favorite is Tae's solo moment. Honestly, everybody is "Legendary." Even Kotaro deserves that MVP title.
A Satisfying Conclusion for their Revenge
Personally, I hoped there would be more about Kotaro's backstory, the curse, or anything about the zombie girls. However, I have no complaints about the finale at all. The episode wasn't rushed nor was it underwhelming. It focused on their revenge concert and I think MAPPA did an excellent job! With only 27 minutes, everything was perfect—the exciting and emotional scenes, the music, and the voices! I hope everyone can appreciate the talent of the voice actresses. 
The second season delivered lore, answers, and a lot of character development. Despite this, a lot of unanswered questions remain in the dark! I wasn't expecting to see blood from Kotaro. What does this mean? Plus, "Zombieland Saga: Revenge" ends with a bang. Seriously, what is an alien ship doing in Saga? After all the emotions, this really gave me a shock and a laugh. Perhaps it has something to do with their "April Fools" teaser titled "Zombie VS Alien" back in 2020. Is this a coincidence?
Whatever it is, we can all agree that "Zombieland Saga" is the only idol anime capable of epic things like this. I look forward to the fun and chaotic insanity this show will bring next. Just like the voice actors, I encourage everyone to keep supporting "Zombieland Saga!" As of writing, there is no announcement for a third season. However, the cast will be having a live event this October. In addition, Blu-rays have also been released. More information is available to read on their website.
About Zombieland Saga
"Zombieland Saga: Revenge" follows the story of a zombie idol group in Saga. One day, Sakura Minamoto dies in an accident. She wakes up ten years later and discovers that she is resurrected as a zombie by Kotaro Tatsumi. Coupled with six other girls, they become an idol group called Franchouchou and go on a mission—they must save Saga!
It is available to watch on Crunchyroll in selected regions. It is also available for free on the official YouTube Channel of Muse Asia. Read our other "Zombieland Saga: Revenge" articles from the site.
All images via Muse Asia
©ゾンビランドサガ リベンジ製作委員会