Mira Suou has been relieved of her duty as Reito's personal secretary in episode 5 of World's End Harem anime. Thus, the United Women appointed two new attendants as a replacement. However, the arrival of the new characters is accompanied by the malicious plot of people working in the shadows.
Warning: This Section Might Contain Spoilers.
Reito's new attendants are Rea Katagiri and Maria Kuroda. Rea is the one in charge of serving Reito, while Maria will help him in his research regarding the MK virus. Unfortunately, their first encounter was a bit unpleasant as Maria accidentally bumped into Reito. Rea instantly judged Reito and called him a delinquent, thinking that he will go after any woman he sees.
Unlike Rea, it seems that Maria likes Reito since she didn't get bothered by their first encounter. In fact, she is really happy and talkative whenever their topic involves virology. It seems, however, that she becomes so engrossed while talking about their research that she forgets that sometimes she reveals a little bit too much skin. Considering the sudden turn of events, it is sure that Reito's life will slowly change.
Of course, Reito is not happy with the decisions of the United Women's upper echelon since he became attached to Mira. Though the fault for her not being his attendant anymore is partly his. The episode also emphasized that Mira is unsatisfied with the United Women's decision.
It looks like Mira still plans to stay by Reito's side as long as she can since the United Women doesn't ban her from doing so. She even came along with Reito's group on their trip to visit Taniguchi, the wife of the first MK virus victim in Japan. Taniguchi looks like she doesn't want to help them but it seems that she really knows something about the virus. In episode 2 of World's End Harem, Erisa revealed the truth about the virus and it seems that Taniguchi is in touch with her. Based on Taniguchi's actions, it seems that she doesn't trust the United Women but she believes in Reito. Strangely, when she is ready to tell Reito what she knows, a mysterious person visited her hospital room, and the next day she was in a coma.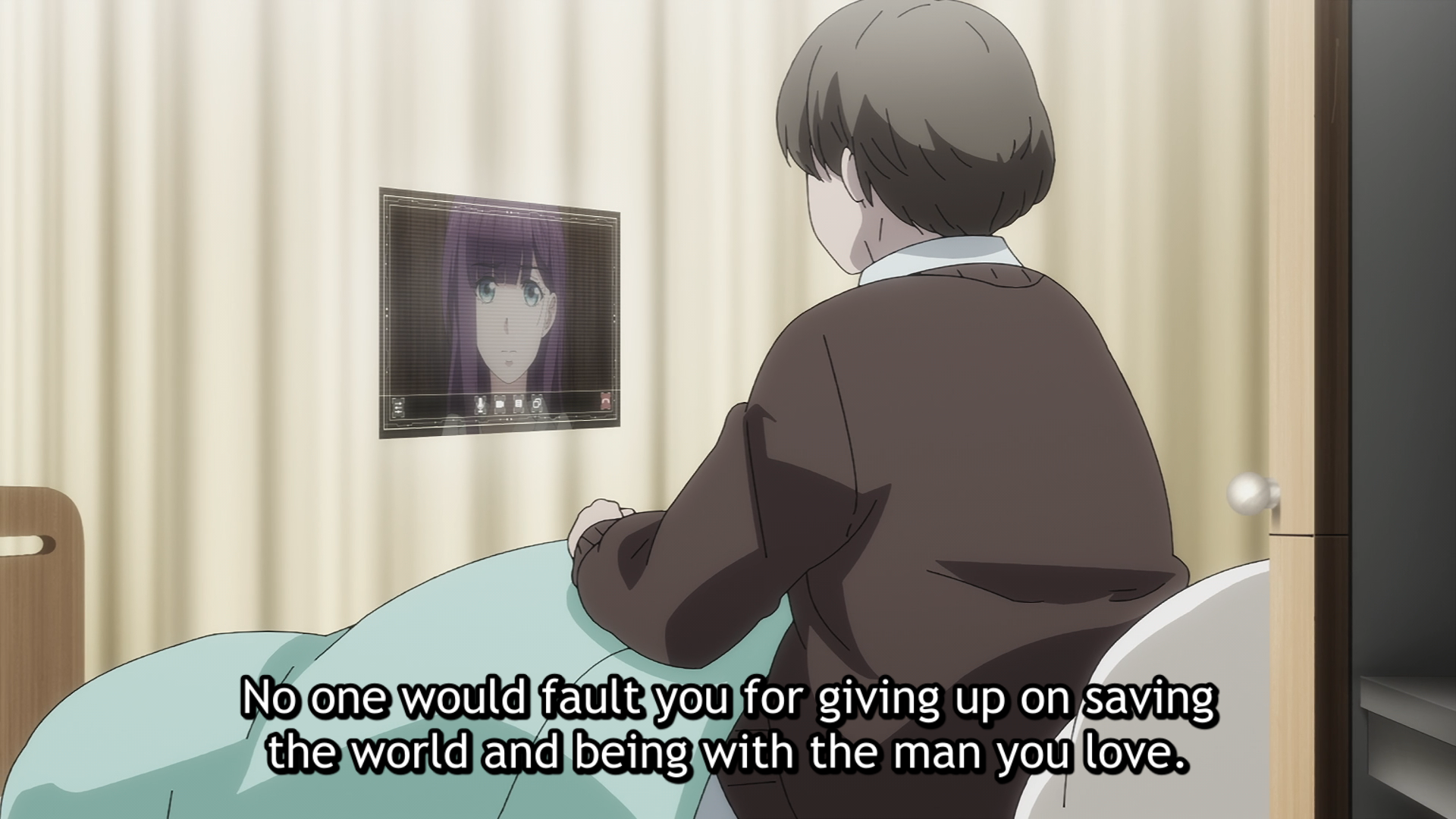 It seems that an unknown person is working in the shadows to prevent Reito's group from learning the truth about the MK virus. That said, I think the events in episode 5 of World's End Harem are too much to be a coincidence. A suspicious woman from America also came to Japan in order to meet Reito. The attendants of Reito have been changed and Taniguchi, who doesn't trust the United Women, can contact Erisa whenever she wants to. Considering these facts, I have a feeling that the United Women is involved with all of these events. As I said in my feature about episode 4, it seems that the organization in question is plotting something. The story of the anime is getting deeper as time passes and the show's plot thickens.
Why Erisa contacts Taniguchi but not Reito? Why does a mysterious person wants the truth about the MK virus to remain hidden? Why did the United Women change Reito's attendants without a good reason? If you want to know the answers, stay tuned to the anime. Episode 6 will air on February 11, 2022, and you can watch it on Crunchyroll.
Lastly, if you love the new characters that were introduced in episode 5 of World's End Harem, you can vote for the anime on our weekly poll.
The time is near future-Tokyo, Japan in 2040. Reito, a young man suffering from an intractable disease, vows to reunite with his childhood friend Erisa and decides to "cold sleep" to cure his illness. When he wakes up five years later, the world was undergoing a major transformation. The MK (Male Killer) virus kills 99.9% of men on the planet. The ground was a super harem with 5 billion women for every 5 men. Only five men, "Numbers," are resistant to the MK virus. One of them, Reito, is required to "mate" for the survival of the remaining women and humankind. Harem life waiting for the world after the pandemic. At the same time, Reito is involved in a global conspiracy over Numbers. Can he overcome the temptation and save the world?

Crunchyroll
Screenshots via Crunchyroll
©LINK, Kotaro Shono/Shueisha, End's Harem Production Committee